The Mileater Award rewards those cyclists who put in the miles day in, day out, throughout the calendar year. It differs from most other AUK awards in that any distance cycled, whether on an AUK event or not, country towards the annual total. So you can include your commute, your holiday or even a trip to the shops! However, static cycling  (on a turbo trainer, for example) doesn't count.
Entrants can record their mileage in the Mileater Diary or by other means such as spreadsheets, Strava, etc.
The Mileater year runs from January 1st to December 31st and the Jan and Mick Latimer trophies are awarded to the female and male cyclists recording the highest mileage in this period. To qualify for the trophy diaries must be returned to the organiser by the 30th April of the following year.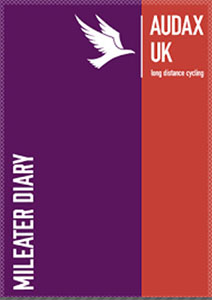 Each year an article of extracts from the diaries of entrants appears in Arrivée and each diarist is encouraged to write their own personal comments and reflections about their riding experiences. Photographs and drawings are encouraged; these can be emailed to the organiser or uploaded via many ride logging websites (please make sure they meet Arrivée's submission guidelines).
To achieve the award:
Complete and submit an entry form - pdf format (print, complete by hand, scan and e-mail or post) or MS Word format (download, fill in and e-mail back) The postal address is on the form or e-mail to chris.crossland@halifaxctc.org.uk. You can include a cheque if posting the form (the prices are shown on the entry form, or (preferred) pay online by going to the Mileater store page (you will need to be logged in to the website for this)
Optionally order a Mileater medal if required (again, prices are on the form)
The item has been added to your basket
Click on the basket icon above to go to checkout